To sell more in your ecommerce you need qualified traffic. Today we are going to see how we can improve the SEO of our online store.
SEO for ecommerce differs a bit from SEO for blogs or content websites. In an ecommerce, the written content is not as important as in a blog and more technical factors such as internal linking and indexing come into account.
Some Aspects to take into account for an optimal SEO on Page
Titles and meta descriptions
The title and description tags are our showcase in the SERPS, so we must optimize them as much as possible.
There are big differences between this title: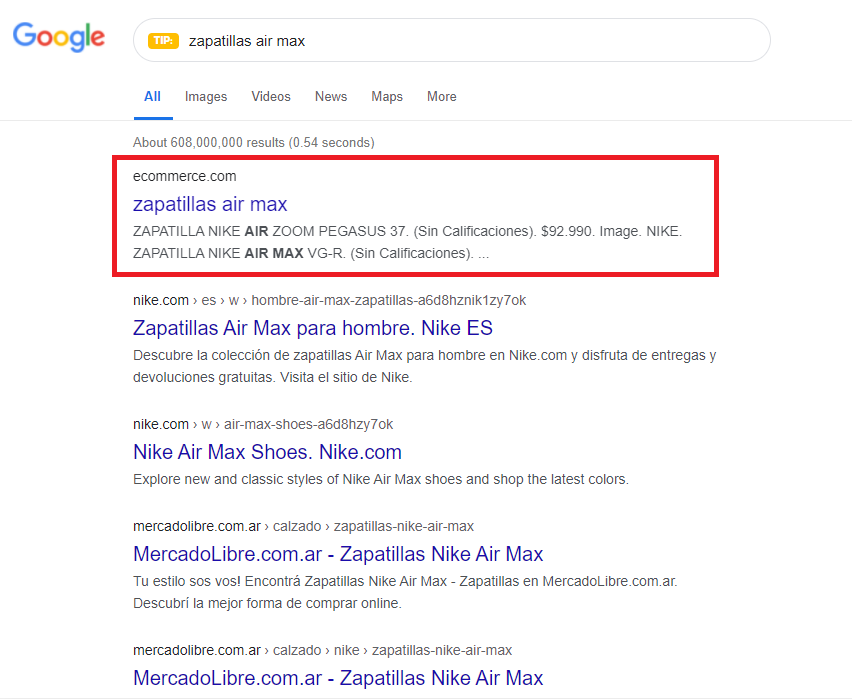 And this one: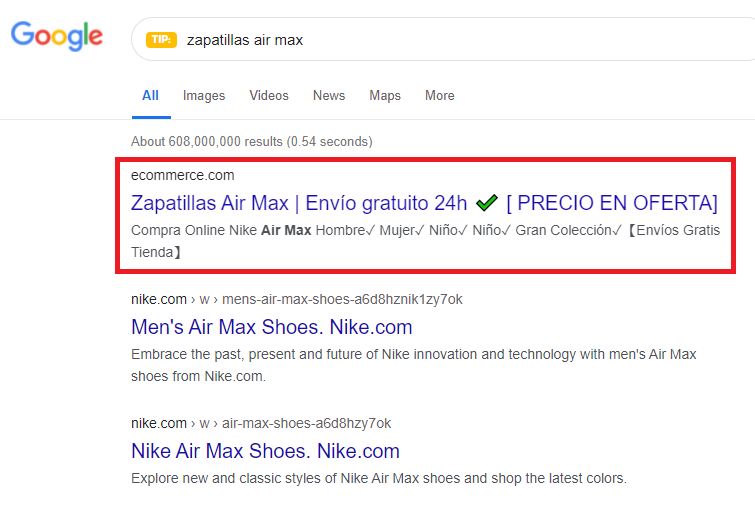 Take advantage of titles and meta descriptions to increase CTR, even if it's not a ranking factor.
You can use words that catch the reader's attention, such as: the best, sales, offer, free shipping, use emojis, etc.
Google does not always show the description we have written, it can show another fragment of your website. There is no way you can change it, it usually changes it if that description does not match what the user is looking for.
Take care of category pages
The categories in an ecommerce are the most important pages. You need to focus efforts on positioning these types of pages to facilitate a good user experience instead of simply having a list of products.
Having good content helps Google understand your page better. Remember that content is not just text. Pictures and videos are useful too – use them!
Internal linking
Internal linking is the best option to distribute the authority of your website to the areas you want to promote. You can contextually link and "abuse" exact anchor text in linking without fear of penalty.
However, it is advisable to diversify the anchor text to give it more semantic variety.
Structured data
Nowadays, having the Schema markup implemented is essential in an ecommerce to have greater visibility in the SERPS and offer valuable content to the user. There are several markups, although the most used for online stores is the product one.
This structured data markup gives us the possibility to show the votes that users have left and the price of each product. Example: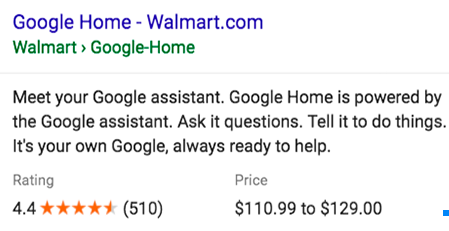 Do a keyword research
The key to any successful SEO campaign is keyword research and the study of the competence. We have to analyze factors such as search volume, cost per click, search intention and competitor analysis to know if we should spend resources on attacking a keyword.
The search volume indicates the monthly searches that each keyword has.
The cost per click is the cost that each advertiser pays each time a user clicks on their ad.
Search intentions are divided into several types:
Navigational: These are brand searches. For example, users who search for "Amazon" in Google to go to your website.
Informational: They are searches to find out or learn about a specific topic. For example, "how to know my size on an exercise bike".
Transactional: They are searches with purchase intention (the one that interests us). For example, "buy cheap exercise bikes."
If the search intention is informational and you own a store, you will not position even if you have excellent content and links from highly authoritative websites. Before attacking a keyword it is necessary to do a manual search on Google to check the search intention.
With an example you can see this very clearly. If we Google "stationary bikes" the search intention is transactional because only stores appear in the search results. The intention of the people who do that search is to buy a bicycle. Example: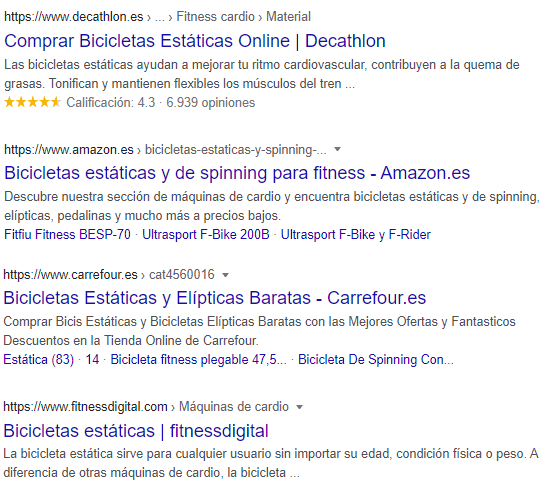 On the other hand, if we look for "better exercise bike" the result is mixed between informational and transactional. People who do that search want to learn and compare with the different options of exercise bikes. Example: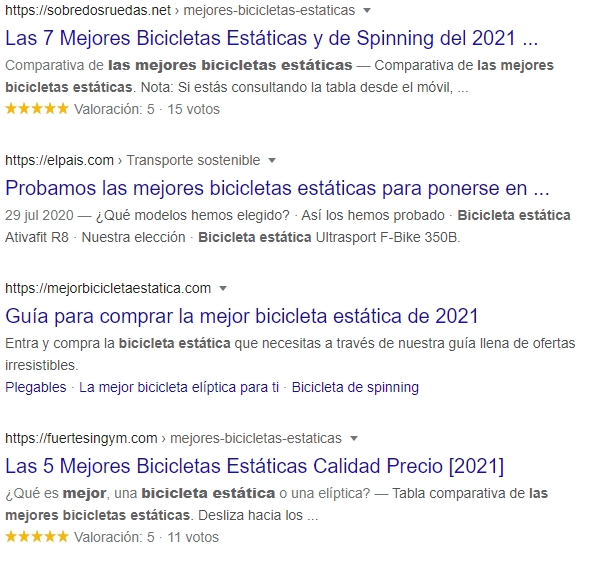 Images
Product images are essential so that customers can clearly see what they are going to buy. Would you buy a product without even seeing a photo?
In addition to being very useful for users, they are also very useful for search engines. The latest implementation from Google regarding product images has been to add a label in the lower left and a notice in the lower right, to indicate if there is stock of that product directly from the Google image gallery.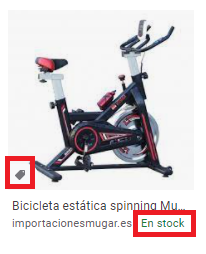 Some advice:
Try to give the images a descriptive name like "stationary-bike-spinning.jpg" instead of "img039.jpg" and add the ALT (alternative text) parameter so that the visually impaired and Google can understand the image.
Before uploading the images to your server, compress them to reduce their size. You can use editing programs or online tools to optimize them.
Web speed and Core Web Vitals
Loading speed is another positioning factor to consider. If the web takes time to load, it can affect the rankings. According to a study, websites that take more than 100 milliseconds to load can reduce the conversion rate by 7%. In a company that invoices 1,000,000 euros a year, the losses could be of about 70,000 euros.
Increasing the speed of your page will improve the user experience, but it also will increase sales and search engine rankings.
Recently in Chrome they have indicated that they are doing tests to indicate by means of badges if a site loads fast or slow, as you can see in the image below: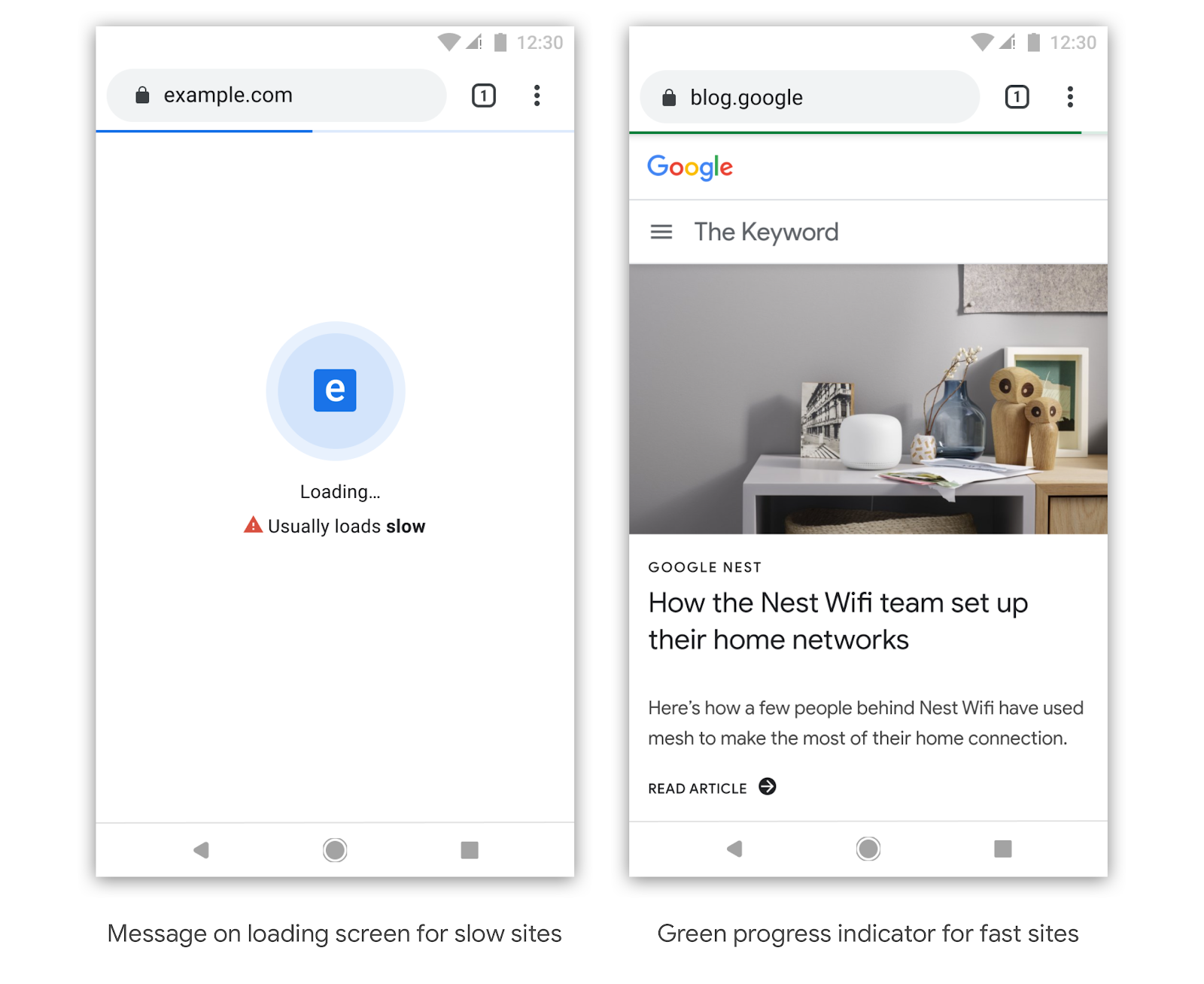 They have also launched an update called Page Experience that will take into account the user experience, mobile optimization, safe browsing, the HTTPS protocol and abusive advertising.
Most common Seo On Page errors of an ecommerce
Structure
The structure of an ecommerce must be intuitive for the user to find what they are looking for.
A very common failure is to introduce many products in the navigation menus that worsen the user experience (especially on mobile).
You should have the menus of the categories and products that you are interested in highlighting, not the entire catalog.
Another recurring mistake is having categories with too few products. Having a category linked from the homepage where we only have one or two products is usually a waste of authority and resources. If we want to link that product, we can do it directly from any page of the site such as "other recommended products" without having to dedicate them a category of their own.
Normally online stores tend to have this type of structure: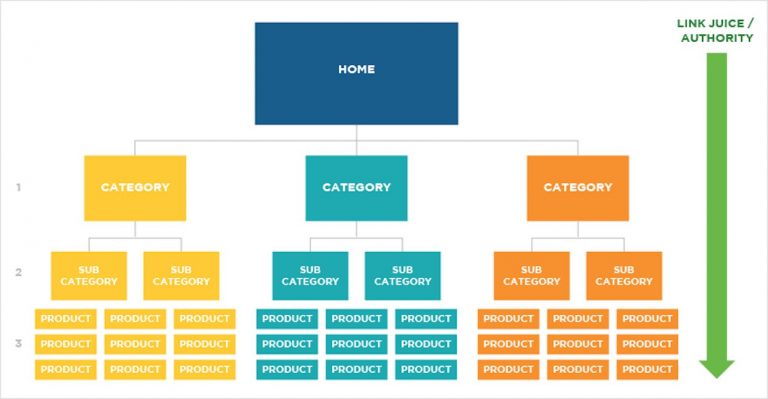 Duplicated content
Many sites have in their products the content provided by the distributor through a catalog. The problem is that these contents will also have other websites and you will be generating duplicate content.
If your website has no original content or authority, why should Google place you higher than the competition? Although it may be hard work, it is worth having unique content.
Example of duplicated descriptions: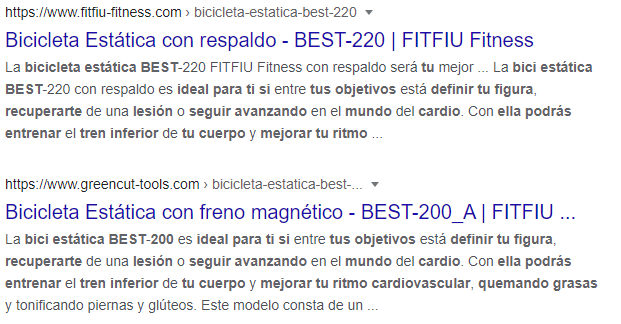 Indexing
Indexing is surely the most complicated part in a large ecommerce. In the event that we have thousands of products, we must only index what we are interested in promoting and the products that we are not interested in must be left as "noindex".
Filters, tags and searches are not normally indexed unless we want to promote a specific product.
Example:
If we have a shoe website, (we always put the same example ?) surely we are not interested in indexing filters such as "Nike Air Max Model XXX woman size 37 white color", but we may be interested in indexing "Nike Air Max woman white color".
These details must be looked at in depth and require a deep analysis, so there is no correct answer in terms of indexing.
URL structure not optimized
It is common to find URLs of the type: miecommerce.com/njkar94ge48?=venrFE0kf
Instead of: miecommerce.com/airmax
Having short URLs will not improve your position and adding the keyword to the URL will not have much impact in terms of rankings, but it will improve the user experience.
Important
If you have a URL that is already positioning by keywords, do not change it even if it is not "friendly" because it will lose all strength and you will start from scratch.
This example happens a lot on blackfriday. There are many websites that every year lose everything they have worked on by creating a new URL:
"ecommerce.com/blackfriday-2021" for the 2021
"ecommerce.com/blackfriday-2022" for the 2022
The correct thing is to have this structure:
"ecommerce.com/blackfriday"
In this way we can work on the same URL and take advantage of all the external and internal linking that we have generated. We just have to change the title.
In case you have to change the URL you can use a 301 redirect or use canonicals.
SEO Off Page
Link building is not very different than any other website. It is vitally important to get relevant, thematic and authoritative links to be able to improve in the rankings.
As it can be seen in the image of this study, the referring domains are related to a better ranking in Google.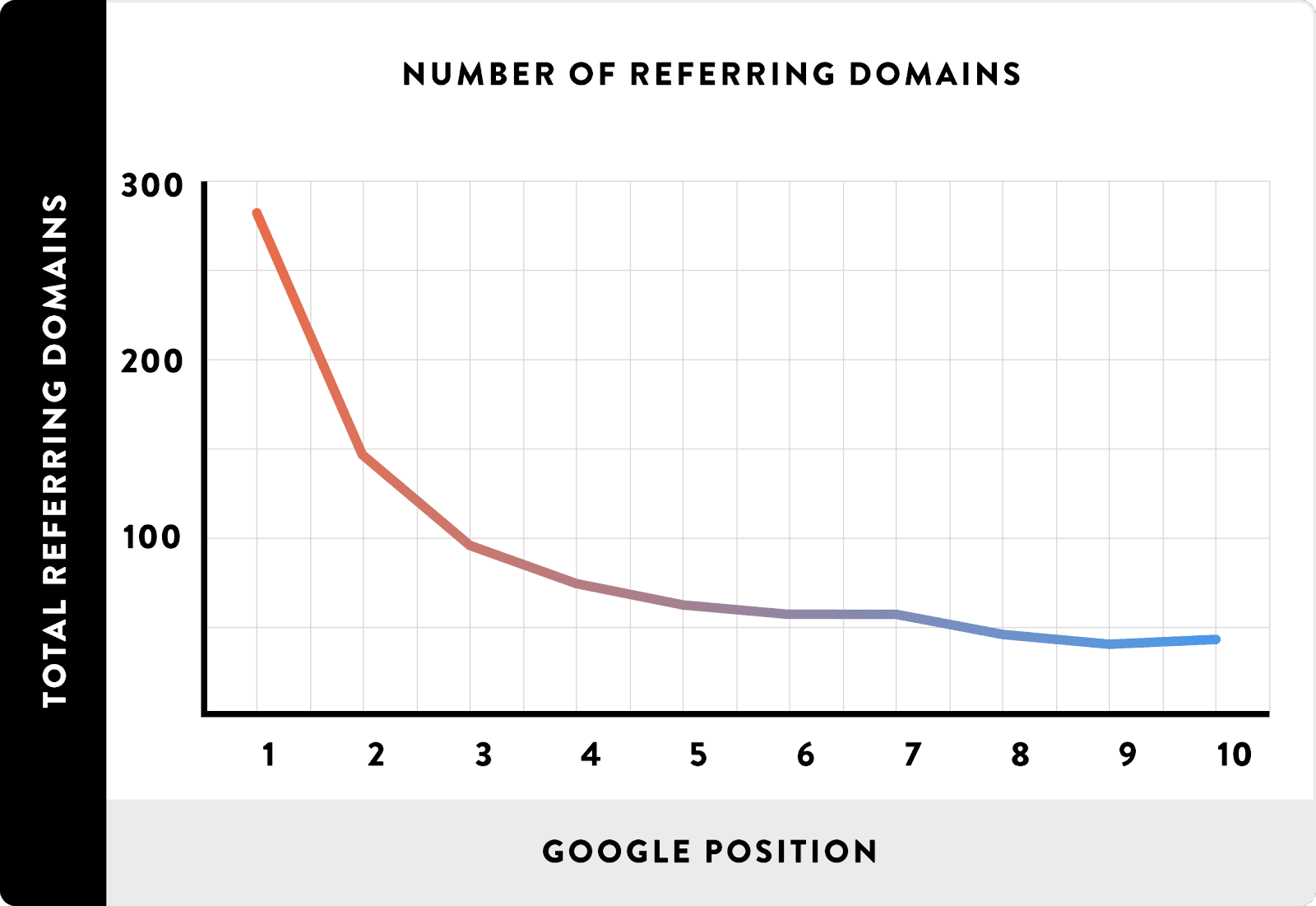 Not all domains help to improve the positions of our website. In fact, we can even lose positions or be penalized. Use common sense to see if that link is worth it. As a general rule, easy-to-find links are not very valuable. Anyone can get a link from a social network, but could you get it from the White House?
Links we are not interested in
Other countries: Normally (there are exceptions) we are not interested in being linked from other languages ​​or countries because they are not useful for the user. Example:
If we have a website with a guide to pass a university entrance exam, it is not useful to have links from China or Russia.
Different topics: To continue with the previous example of the guide to pass a university entrance exam, it is not very natural that they link us from recipe websites, for example.
Too many outbound links: Avoid link farms or websites that are created for the sole purpose of creating links.
Penalized websites: The websites that have been penalized by Google have not followed the search engine's guidelines and have been penalized algorithmically or manually. Try to avoid them by checking your organic traffic.
Example of penalized website:

Websites with little or no authority at all: Websites that do not have authority links will hardly pass PageRank.
Links we are interested in
Let's see in an easy way what types of links interest us.
1. Authority
The moment one website links to another, Google detects that link as a vote and can benefit you in the rankings.
Links pass PageRank to our website. The greater the authority of the page, the greater the link juice that we will receive.
Google does not provide information on the authority of each page. To measure the authority of a website, we can check the reference links in any SEO tool. In this way we can see the quality and quantity of the links. We have to focus on getting quality ones. It is preferable to have few quality links than many low quality ones.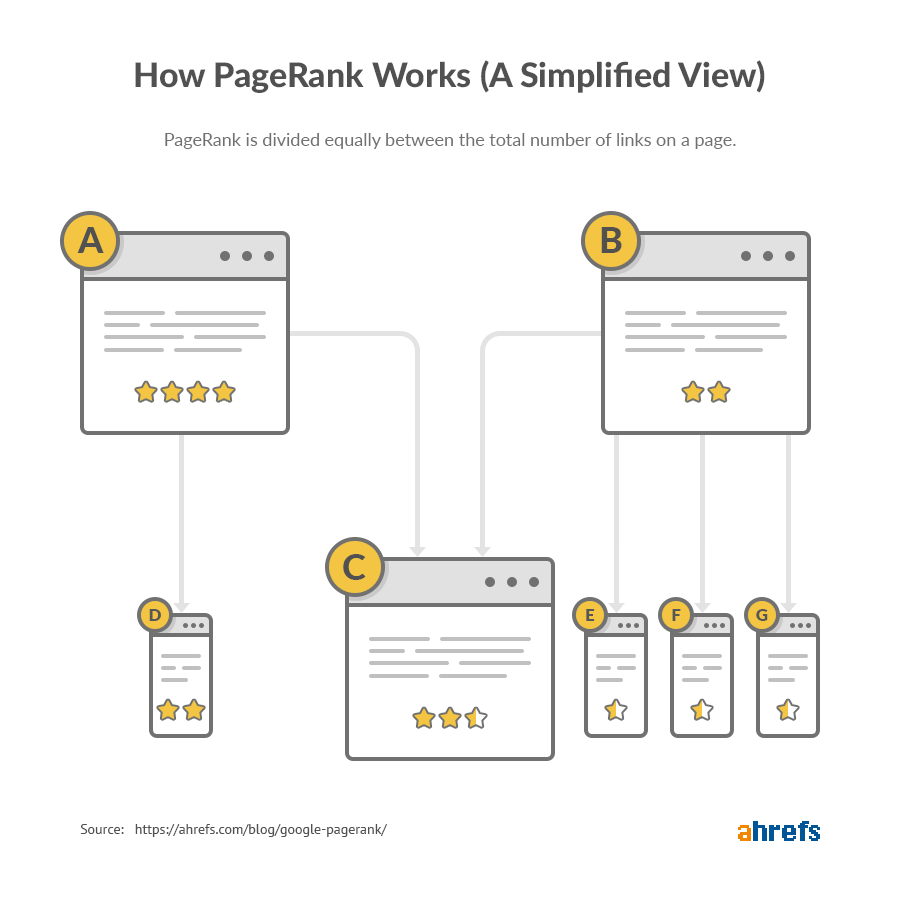 Important
You should not trust the authority that SEO tools offer us because they are easily manipulated (DR, DA, Citation Flow, Authority Score etc.)
In any case, not all the links on a website pass the same authority. If the web contains two links, the PageRank is divided between the two webs.
In addition, it affects that you have already been linked before and where the link is placed. It does not have the same value if they link to your website from the content, than from the footer, comment, sidebar, etc. In this post you can see how Google values ​​a link.
2. Traffic
Organic traffic is the best signal to know if Google likes a website.
There are multiple SEO tools to analyze the traffic of a website. Although it serves as a reference, we must never take this data at face value.
It is possible that we find websites with authority but without organic traffic. This type of websites are not recommended.
Example of a website that has authority, but has no traffic, possibly because it is penalized:

3. Anchor Text
The anchor text or anchor text is the text inserted in a link. It provides relevance to the link and has a great impact on rankings.
The safest strategy in an ecommerce to have natural anchor texts is to carry out an inbound marketing strategy through informative articles.
Let's face it, it's not very common to link to category or product pages. These types of links are detected very quickly because they usually have very commercial anchor text. Example:

Instead this link can be totally natural:

3. Follow/Nofollow
To fight spam, Google announced the "nofollow" tag in 2005. A nofollow link does not convey authority. Some types of nofolllow links are user generated links (UGC), purchased links (sponsored), affiliate links, directories, etc.
4. Thematic
The best links we can get are those that have the same theme as our website. Imagine that we have a fitness website, a link from Vitonica, a website focused on fitness and sports, is preferable before Search Engine Journal, an English-language SEO website.
Search Engine Journal has more authority, but it is not as relevant as the fitness web.
4. Outbound links
The more domains linked, the lower the PageRank each domain will get. We are going to think of a website as if it were a water tank. The more channels we make, the lower the flow rate of each channel.
It is important to check that the website does not have links to content websites, adult, casino, pharmacy, etc. Unless we have a website on this topic, it is not recommended.
5. Depth of link
Normally the most important page on the web is the homepage, the links from the homepage are the ones that have the most authority. The deeper the link, the lower the PageRank we will receive.
In the same way, the landing page also matters. It does not have the same value that they link us to the home page, the page we want to position or the "who we are" page.
With these little tips I am sure that you will be able to optimize your online store to get more traffic. Do you have any doubt? Leave it in the comments, I'll be happy to help you.