Home / Clients / Premium Leads optimizes EVO Bank digital strategy
Premium Leads optimizes EVO Bank digital strategy by measuring and monitoring their digital assets
The Company
EVO Bank begins as a commercial brand in 2012 with and objective: to become a quality alternative to traditional banking. Following a smart-banking model , EVO offers the easiness, readiness and convenience of an online bank to its more than 480.000 clients. 
Its strategy is basically digital. They count on a powerful mobile app,  different online procedures for accounts and mortgage contracting, many sites focused on providing their clients with a good service and on acquiring new ones, and even with a technological devices marketplace.
The Challenge
In such a diverse digital environment, EVO needed to have all its assets' data integrated and updated. At the operational level, this will improve the usability and functioning of its online procedures, and at the strategical level, this will optimize the business decision making process.
It was fundamental to be able to report business KPIs internally, and to share this information with the teams. However, the analytic tool used by EVO, though powerful, it was expensive and unwieldy.
The Solution
Once we understood EVO's needs, we had all hands on deck. We chose a more convenient web analytic tool, which we implemented in all EVO's assets. We started measuring all elements that could be relevant for EVO in order to make decisions, liaising with both internal and external teams.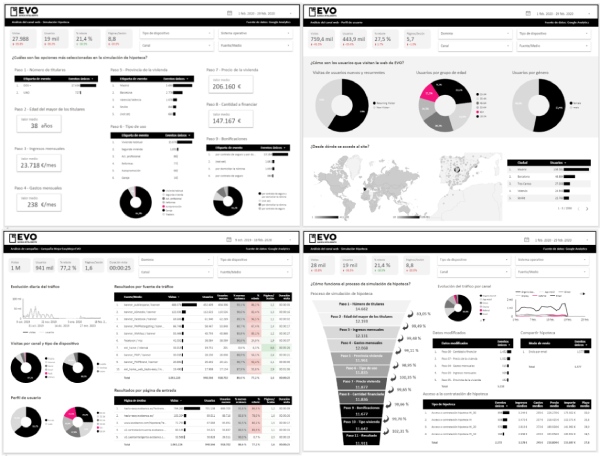 This implementation was held by means of a container tag, which speeds the adoption of new measures and improves the integrated management of all tracking pixels of all suppliers.
Moreover, due to the need of sharing and giving visibility to this information, we use a third tool to create dashboards that can be updated in real time, and that provide accurate reports that the different teams need in order to do their tasks.
The Results
Thanks to Premium Leads and Ipglobal, EVO keeps on optimizing its digital strategy.
Our dashboards are now another resource for EVO on a daily basis. With the information they bring, EVO can take faster and better decisions, saving time and money that they can now invest in making banking easier for their clients.