If you are passionate about SERPs and everything related to Mr. Google, you sure know about Google's announcement on September 16, informing that the use of the stars as a review snippet is restricted to certain schema.
Stars are a kind of rich snippet that could be shown in the results of the SERPs, representing the user's rating of a certain webpage. For any SEO professional, the stars play a fundamental role in the optimization and improvement of the CTR, since they influence the click rate of the users.
Google's changes have been frequent over the last months and this star rating update is just another example of these many changes in our favorite search engine.
As you probably know, a few days ago we have seen how the stars have gradually disappeared, showing a rather traditional view of the results instead. Since September 16, many analysis have been carried out, since Google did not report on the exact date of the update – it could happen any time. On September 16, a minimum fall in the presence of this feature  was observed, resulting in a decrease of several percentage points.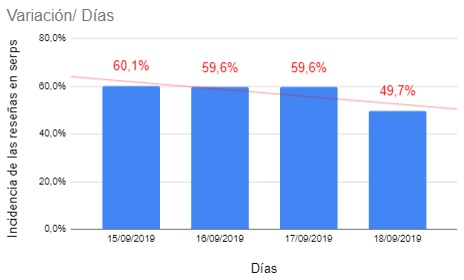 As you can see in this graph, there is a fall on day 16 of 0.5% compared to the previous day, but you can also see that there are no changes on day 17. This stability becomes irrelevant if we compare it with the fall that occurs on days 18 and 19, with falls of 9.72% and 2.24% respectively. This is when the biggest star cleanup was carried out.


Many reference websites in the SEO world mentioned this change and presented graphics, showing how the presence of star ratings in the SERPs had decreased. In the previous graphs we can see how, from day 17, most of the results with stars ratings begin to lose their review snippets, reaching almost 20% less presence in the whole SERP.
Mentions on Twitter by Barry Schwartz (author in Search Engine Land) and other Spanish SEOs began to appear on our timelines, informing the SEO community of what was happening.
ICYMI: Google updates rules for reviews rich results (the stars): Only shows for specific schema types, self-serving reviews disallowed and name property required. https://t.co/6btSxbbyxq pic.twitter.com/yD2EuHMSzZ

— Barry Schwartz (@rustybrick) September 17, 2019
Why are the star ratings gone?
After seeing the effects of this update, it is time to draw some conclusions about what Google already mentioned and all that it implies. Until now, Google had not been strict about the use of these review snippets and many webmasters used them to call the attention of the user and thus improve their CTR.
Google itself clarifies that this change comes from the fact that these stars did not provide enough value to the user in certain schema and many SEOs took advantage of them to improve their results in the SERPs. Most niches and markets have experienced this snippet vanishing, but price comparison sites and review articles are affected the most.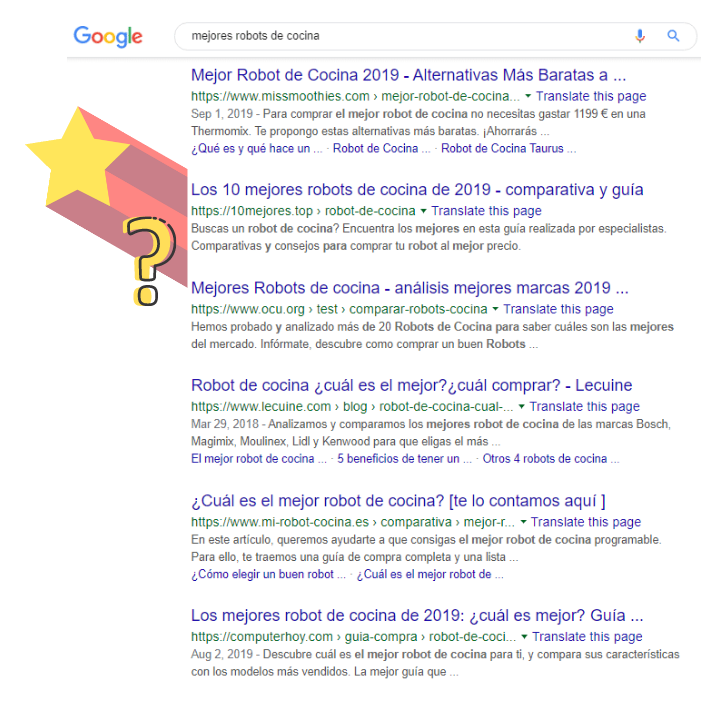 Things have changed now and stars will only be shown as rich snippets in the following schema:
schema.org/Book
schema.org/Course
schema.org/CreativeWorkSeason
schema.org/CreativeWorkSeries
schema.org/Episode
schema.org/Event
schema.org/Game
schema.org/HowTo
schema.org/LocalBusiness
schema.org/MediaObject
schema.org/Movie
schema.org/MusicPlaylist
schema.org/MusicRecording
schema.org/Organization
schema.org/Product
schema.org/Recipe
schema.org/SoftwareApplication
Self-serving opinions for businesses and companies
In the past, brands and businesses could add opinions about themselves through marked-up data on any type of page. If Google detected these revisions in the markup, they could end up getting rich snippets through the so-called "review rich results."
Review snippets are short excerpts from opinions combined along with the average rating generated by users on a given page. The rich results used to show the excerpts and the average rating shown in the form of stars. With this new update, the self-serving ratings (generated by the companies through markups or generated through third-party widgets) will no longer be seen in Google results.

To be more specific, the schema markup in which ratings will not be displayed will be "LocalBusiness" and "Organization". Self-serving opinions have not being a matter for discussion since Google itself decided to update its own announcemen to correctly explain what these types of reviews consisted of. On the other hand, they will remain visible for certain types of content, such as the following:
Books
Local Business
Movies
Music
Products
Recipes
Is it necessary to eliminate third-party widgets or self-serving reviews for LocalBusiness and Organization?
Google justifies this update with the possibility of manipulating ratings and reviews through these widgets, so it will no longer show these opinions in the fragments. Regarding self-serving reviews (which had already been created before this update), it will not be necessary to remove them, as they simply will not be displayed. Likewise, the announcement refers to a hypothetical form to notify about the use of these self-serving reviews.
Can there be penalties for the use of self-serving reviews?
There will be no manual reviews or penalties. Although we recommend checking if the schema markups introduced on the websites match the guidelines set in their documentation.
Structured data has become a very powerful tool for Google in recent years, helping robots understand how the web is structured and allowing webmasters to prioritize certain elements of the site. With this type of data, the user can get all kinds of answers quickly, such as reservations, flights, price ranges, etc. Google's search for the perfect answer arouses the use of schema markups to become increasingly relevant throughout the SEO community. The possibility of pointing out the most important aspects of the content and showing them through rich snippets considerably improves the relevance of that answer in the eyes of Google.

As we can see in the previous result, information about the average rating of users (stars), the number of reviews, breadcrumbs and even a call-to-action is included. This greatly facilitates the choice of the result by users and offers more information about the content inside and its quality.
Will external websites (such as opinion-storing companies like Yelp) or brands be affected?
These sites will not be affected and the rich snippet with the collected opinions will be seen as always, including the stars.
Does it directly affect the "Review" and the "AggregateRating" markups?
Yes, the update affects these markups -which were used to show the average rating in the results through stars. In addition, from now on it will be necessary to include the "name" property.
Right now, Google's structured data testing tool doesn't allow you to verify if an opinion is self-serving. Therefore, webmasters must be aware of whether they have used these types of actions to improve their results.
Conclusions
It is clear that rating snippets can help us stand out from our competitors in the SERPs and improve the quality of the answers offered. In any case, we should not let our guard down in regards to updates related to markep-up data.
The stars snippet update and the changes that come with the self-serving reviews push the SEO community to be much more stritct when it comes to markep-up data.
The stars are disappearing little by little but we cannot draw clear conclusions at the moment. It seems that sites using plugins like "kk Star Rating" suffer from a considerable decrease in the number of results. On the other hand, a clear pattern cannot be established, since we also find results with stars that still use JSON aggregatetagging or other external plugins.
We will have to wait a little bit more to draw more conclusions and know for real why the stars have disappeared from Google.