Think about what SEM means to you – it is common to have a wrong idea about it. In this article we will analyze in depth the meaning of concepts such as PPC, CPC, Quality Score or CTR.
The true concept of SEM
SEM (Search Engine Marketing) is defined as a search engine marketing that aims to improve the positioning of a website. That is, the purpose of an SEM strategy is to increase the visibility of our website by positioning it in the search results related to the products, services or contents that appear in our site.
Let's give a more understandable example: positioning a site in the first results of Google is similar to having an establishment in the city center. According to this concept, and unlike what many people usually think, there is no difference between SEO (Search Engine Optimization) and SEM because the latter is paid, but it is a broader category that includes SEO.
SEO is increasing the amount of website visitors by getting the site to appear high on results returned by a search engine. SEM is considered internet marketing that increases a site's visibility through organic search engines results and advertising. SEM includes SEO as well as other search marketing tactics.
What's the Difference Between SEO and SEM? [FAQS]- HubSpot
Therefore, could we say that SEM = paid advertising?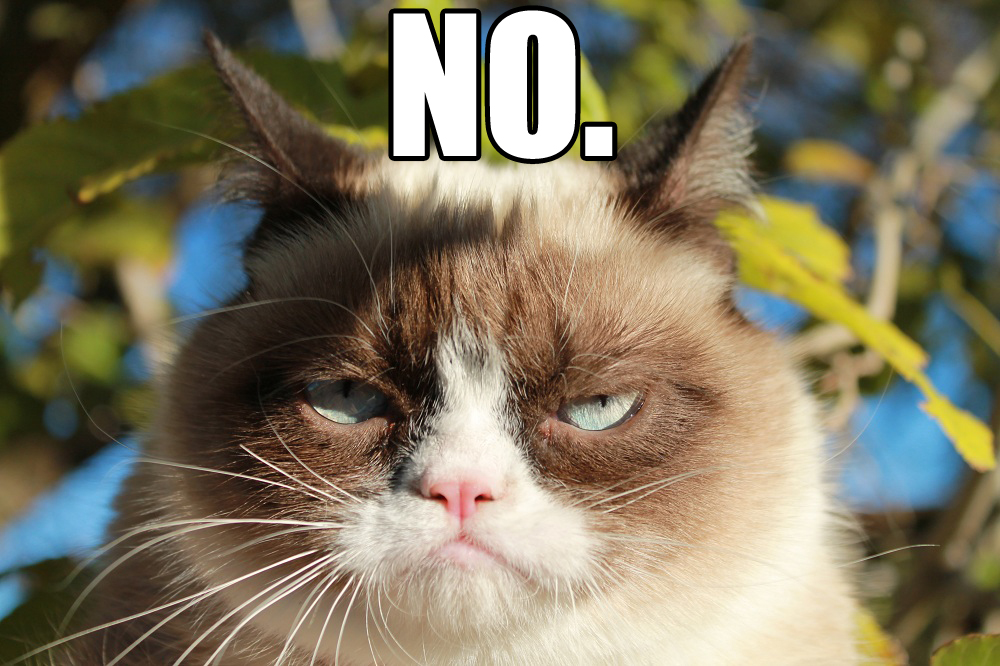 In Spain we tend to mix SEM with PPC (Pay Per Click). Therefore, before starting a debate on SEM strategies, we should analize the concept and clarify if we're referring to SEM as a search engine positioning discipline or as a Pay Per Click tactic. 
Introduction to Pay Per Click
Pay Per Click is a model of a SEM strategy. Thanks to it, advertisers can buy an ad placement on the search results page, related to their website's offer.
Your website's ranking position will depend on your budget, as well as the Quality Score: an estimate determined by Google based on a series of parameters, such as the quality of the ads, the keywords and the landing page.
This way, to achieve high-quality levels we will have to adapt our ads to the searches made by users, as well as guaranteeing an optimal experience on the landing page.
Achieving a high-quality score will not only improve the positioning of your ads, but will also contribute to reduce the costs, so this is a metric you should pay close attention to.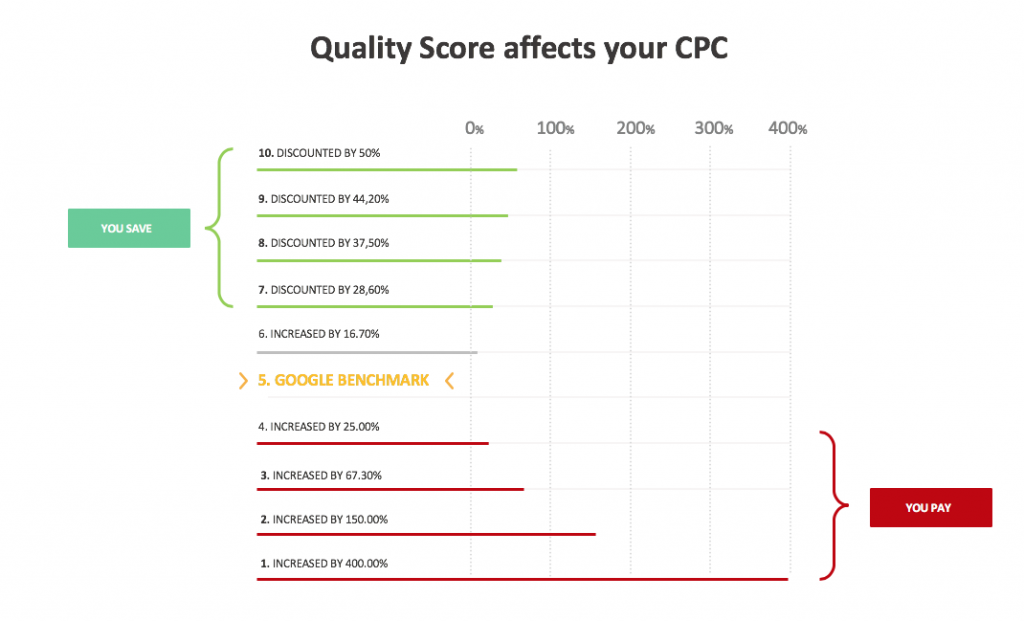 Quality Score Explained
Google Ads calculates the quality level for each of the keywords included in our group of ads. To improve this score, you should pay attention to the relevance and presence of the keywords, as well as to the content of your landing page.
The Quality Score favors advertisers who, despite having a smaller budget, provide greater relevance in each search. Google shows it to us with the following formula: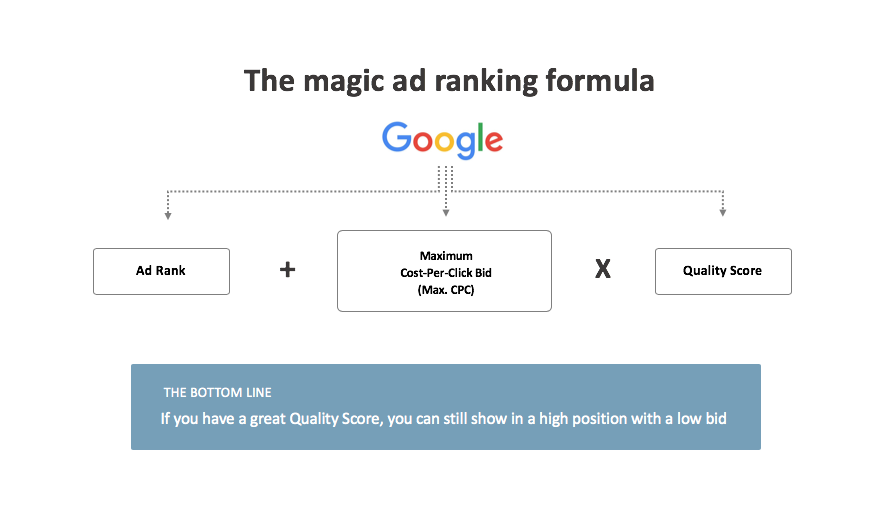 This formula shows us that when the Quality Score is zero, your ranking will be zero as well, no matter how high you go with the bids.
PPC concepts to bear in mind
When starting a PPC campaign it is important to pay attention to the volume of impressions of the ad (that is, the times the ad is shown with a search term), as well as to the CTR (Click Through Rate, the quota that represents the user's interest in your ad).
It is a KPI to see the performance of your campaign, not only because it measures its success, but also because it influences the quality score.
If you wonder what is a good CTR for your ads, I have to answer the Galician way: it depends. 
We all have had the same doubt at some point, but there isn't a particular answer, since there are many factors involved. The sector, the users you are targeting, the campaign and even the value of your product or service are factors that will determine whether a CTR is good or not.
Despite its importance, the CTR is not the only rate to be considered when measuring the success of a campaign, since each click has a cost. The CPC (Cost Per Click) is the price of every click carried out by the users. If there are no clicks, you won't pay anything.
In relation to this, we can establish a maximum CPC. That is, the maximum cost that we are willing to pay for each click on our ads. The cost-per-click bid strategy is the most appropriate if the objective of the campaign is to generate traffic to our website.
Once the campaign begins to get results, we should focus in converting users on the landing page, using the conversion rate to meausre it. This term refers to the percentage of times that users who access our site end up performing an action – it may be a lead, a download, a sale or any other conversion relevant to our business. The conversion rate shows us how many users have performed the final actions, out of all the visits in our website.
Having a high CTR and a low conversion rate will cause our budget to be consumed quickly without obtaining the expected results. That is why, if our goal is conversions, it would be advisable to use a bid strategy based on an objective CPA (Cost Per Acquisition), thus helping to increase conversions.
PPC methodology
To conclude, I would like to emphasize the importance of carrying out a specific methodology in PPC, since our budget is at stake.
Plan your strategy. Set the objectives of your business and each campaign and analyze the sector and your competitors. Subsequently establish your PPC strategy taking into account your budget, your expectations, as well as the benefit you expect out of your investment.
Create your campaign by defining its structure, analyzing and selecting your keywords and creating different ads to see which one has the best performance. On the other hand, keep in mind that it will be useless to create the perfect PPC campaign, if the landing you're directing the traffic to is not well optimized.
Analyze, optimize and then analyze and optimize again. A campaign will never work if it is not monitored. Analyze your results constantly and modify your strategy where necessary.
Finally, never forget who you're addressing your campaigns to. Understanding your audience and meeting their needs are key, not only for the effectiveness of your PPC strategy, but also for the performance of your business.