If your website is finished and you want to conquer the SERPs, you'll have to make an on-page optimization. Take it seriously and get lasting results with this White Hat SEO technique.
A website is the core of all digital marketing actions, so make sure that both the structure and the content of your project correspond to your business objectives. You have to base your work on a good keyword research to start optimizing and seeing some benefits. In this article, we show you a series of SEO techniques that you should apply to your project to get the highest positions. Keep reading, use our check list and the results will soon appear.
What is On-page SEO? What is it for?
Before we start, let's make clear what on-page SEO is (although if you have come this far, it is very likely that you already know it). On-page SEO is a series of recommended techniques applied directly in the website. These techniques improve the site's indexing and favor a higher positioning in search engines. A well-structured and optimized website will be better interpreted by Google spiders and preferred by users. It is an important pillar, mandatory in any strategy of organic positioning.
What you should do before doing On-Page SEO on your web page
First, even before you start doing on-page SEO (and before starting any digital strategy), you should do the following:
Register your web in Google Search Console
Google Search Console is the official Google tool for webmasters, very powerful and much more user-friendly thanks to its new interface. Registering your website in Google Search Console is an essential initial step for any site that will compete in the Google results list.
What information does Google Search Console offer you?
In Google Search Console you can see performance reports with the keywords you're using to position your website, the impressions, the traffic, the CTR ratio, the average position and much more. It marks possible errors and helps you fix them. You can upload a map of your website so that the Google spider can understand your page better, among other things. In other words, without Google Search Console you can't do much (we'll write an article about this super tool).
Create a Google Analytics account
Signing up in Google Analytics and adding you website is the next step. This tool offers you essential information about traffic, its sources and channels, page views and the duration of user sessions on your website in both predetermined and customizable reports. Do not forget to exclude your IP so that your own visits do not count on the results!
For a more professional approach, integrate Google Analytics with Google Search Console to see useful SEO information in your Analytics account.
Install SEO Yoast
If your page is in WordPress, you can use specific plugins for SEO purposes. One of the most popular is SEO Yoast, a "freemium" plugin with everything you need to place your website on the search engines. It allows you to create the metatitles and meta descriptions of your web, control the indexing of your URLs and much more.
At this point, you have Google Search Console, a Google Analytics account and the Yoast SEO plugin: you are ready to start the On-Page optimization of your project.
A complete guide to on-page SEO
Get your website ready and pretty for the users and for Google with these on-page SEO techniques. Let's roll!
Optimize the URLs of your website
The URL is an important aspect, since it helps both the user and Google to know what your content is about. It must be friendly and include the target keyword to indicate the topic of your page.
This is not the same…:
❌ domine.com/B_001gsd/ref=sr_1_5?s=foto&ie=UTF8&qid=1365525726&sr=1-5
…as this:
✅ domine.com/cheap-smartphones
The shorter and more concise the URL, the better. Recent SEO studies have shown that shorter URLs position better.
❌ domine.com/the-best-chepaest-smartphones-you-can-buy-in-2019/
Vs.
✅ domine.com/best-cheap-smartphones-2019/
If you use WordPress, in Settings -> Permalinks, you can choose the format of the URLs of your website.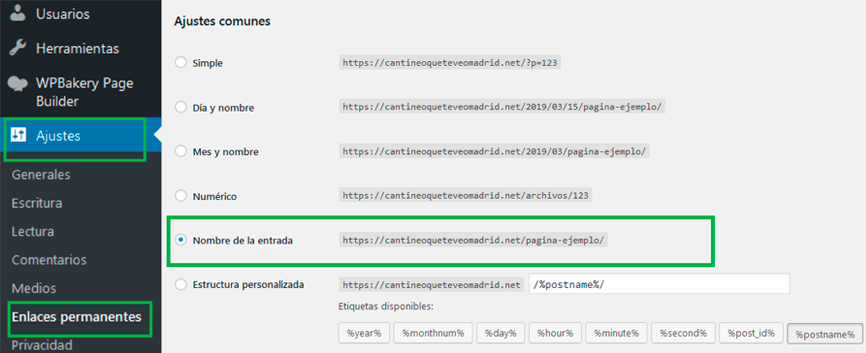 Metatitles and Metadescriptions
The meta title is the HTML tag that defines the title of your page. It has to be relevant, it has to include the target keyword and it has to call the user's attention for a better CTR ratio. Search engines pay special attention to this, so it's recommendable to place your target keyword at the beginning of the title.

The meta description tag is an HTML tag that describes the content of your page and it's the text used by the search engines as a description in the SERPs. It is not the most crucial positioning factor, but it is important since it influences the visits and the CTR. It can show the text you created or show a fragment from the text, depending on which one fits better according to the user's intention.

If your website is in WordPress, the Yoast SEO plugin helps you to easily enter the meta titles and meta descriptions of your website. Use tools such as SEO Mofo or SERP SIM to accurately preview and edit your meta titles and meta descriptions.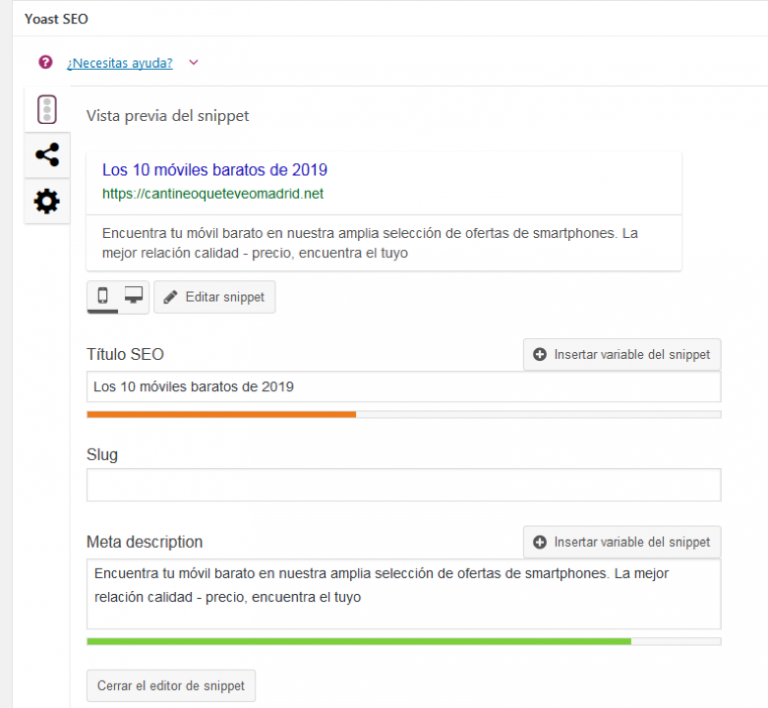 Optimize the content
Content is the core of on-page optimization. It has to offer what users are looking for and be well structured at the same time, so that Google bots know what the site is about and properly classify and index the website.  The length of the content is significant, but quality is more important. Content must respond to the users' search intention. When we talk about content we're not just reffering to texts, but also to videos, images, infographics, everything that may be useful and relevant to an interested user. When optimizing the content of your web page, keep in mind the following factors:
Originality and relevance
Create your own content to attract your client users. It is important that you describe your products or services faithfully and that you arouse interest in people seeking information related to what you offer. Differentiate and provide value – not only will you position your site better in the search engines, but you will gain presence and good image in your sector. The content of each URL has to respond to a single search intention. And the more you segment, the better.
Lenght
Studies have shown that the length of content is important for SEO, but not enough. A quality content that responds to the intention of the user is more significant. With the SEO Quake extension you can see the length of the content of pages competing for the same keywords and the density on page of the terms. Investigate what your competitors are doing!
Avoid thin content
Do not promote pages with poor content (less than 300 words) or with irrelevant content. This is a frequent problem in many websites, and it negatively affects organic positioning. On the one hand, the bounce rate increases, users do not find what they need and they will quickly abandon your website. On the other hand, it increases the tracking time, that is, Google's crawler will waste time tracking internal and irrelevant pages, to the detriment of the pages that you are interested in positioning.
Structure your content with Headings
Use only one H1 per page and place it before an H2 or an H3. It is not recommended to over segment the information, so you do not need to reach an H6 or even an H5. Take a look at Matt Cutts' video about headings. The "only one H1" is a rule of thumb, except on sites with only one page.
Keyword prominence
Include the main keyword in the H1, and add its middle-tail variations in H2 and H3. It is also important to include your keyword and related terms in the first 150 words of your text. Both the spiders and the users consider this part as the most important one. Add conclusions at the end if your content is very extensive (applicable to any long post).
Avoid keyword stuffing, use synonims and LSI terms
Keyword stuffing (overusing keywords in a text to generate more density and relevance) has long gone out of fashion, so avoid overusing keywords. Improve your content with synonyms and semantically related keywords and Google will consider your page better.
You can find variations of your keywords with Google's autosuggest and related suggested searches.


Other tools such as LSI Graphs can also be used.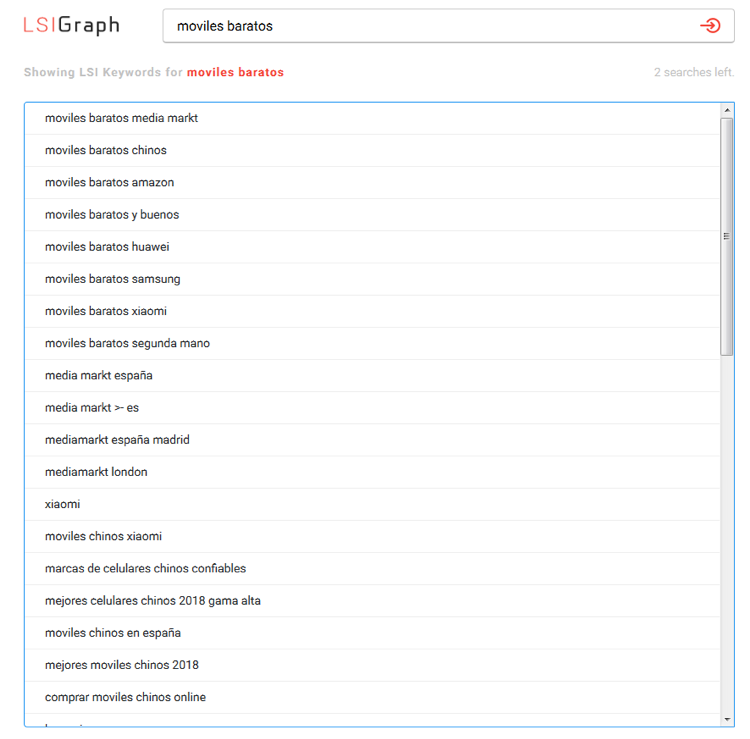 Complete your content with FAQs
Frequently Asked Questions (FAQs) are a complementary content to clarify users' doubts. You can easily gain the user's trust and improve your SEO content, ranking for more long-tail keywords. You can use tools like Answer the Public to find questions related to your topic and then develop them in your content section.
Optimize images, ALT texts and size
Maybe you haven't thought about it, but images can become an important source of traffic. If your images are relevant and well optimized, they can appear in the search results and catch the attention of the users. Even if isn't an image search, an image can be shown among universal searches in the SERPs.
The alt attribute is a fundamental tag for the search engine bot to understand what your image is about. Its name comes from alternative text, so it should express what the image is about in a text form. It is important that it's relevant to the content of the image, coherent and concise and that it includes the main keyword.
The description a is less known field. It complements the alt attribute with a description that details the content of the image.
Take care of the size of the images, the smaller the better, as long as a good resolution is maintained. Uploading heavy images will negatively affect the loading speed of your web page. Edit your images with tools like Tinypng. If you're using WordPress, you can use a plugin like Smush.it.
Internal Linking
Internal linking is a very beneficial SEO technique, it's a practice that you must take into account. Internal links enrich the user experience and help Google spiders discover new sites on your website. Do it naturally and with common sense, and take advantage of the internal linkjuice. Include the anchor variety: with keywords and synonyms, generic anchoring, brand anchoring, URL, etc.
Outbound linking
Link authority sites from your website to offer more information to the user and increase the credibility of your content, especially if it is about informative posts. You will gain credibility both from the user's and from Google's perspective.
WPO (Web Performance Optimization)
This is a rather technical part of on-page SEO, and a bit more advanced. This technique is mainly about the loading speed of your web page, a factor that influences the classification of the results in the search list, especially with the Google Mobile-First update.
If you use WordPress, cache plugins such as WP Rocket (with suscription) or WP 3 Total Cache (for free) are easy to configure and you can significantly improve the parameters related to the loading speed of your website. Check results before and after installation with tools such as GT Metrix or Pingdom Tools.
Request the indexing of your page in Google Seach Console
Go to your Google Search Console > Crawl > Fetch as Google, so that Google's crawler goes through your web page as soon as possible.

Conclusions
On-page SEO should be an important part of your digital strategy that will help you get important and qualified traffic to your website, that will bring you benefits. It's up to you to do your best and we hope that our on-page SEO guide will help you get the most of your site.
Save this checklist to optimize your websiteand don't miss any detail:
Optimize URLs: they should be friendly, short and relevant
Meta titles and meta descriptions: attractive, including the main keyword
Optimize content: 100% original and relevant, adequate lenght, avoid keyword stuffing and thin content
Heading structure: H1, H2, H3
Optimize the density of keywords
Use synonyms and LSI terms
Add FAQ
Optimize the images: Alt attribute, descriptions and size
Internal linking
Outboud linking to high-authority sites
Verify the loading speed
Request the indexing of your site in Google Search Console