Internationalizing a website is a complex process that requires different resources. On the one hand, you will have to consider the content and on the other, the technical SEO efforts. Whether you need an internationalization service for your website or if you are a translator, we'll give you some useful tips, so you know what know how to internationalize your SEO strategies.
The world of Translations is a field that offers many different specializations. For some years now, digital marketing (and SEO in particular) are areas that have been going strong and there are already many translators who have moved into this discipline. SEO Content Creation (whether is content creation or content translation) is highly demanded. In fact, it can easily be considered one of the most demanded content in the translation industry. It is not surprising then, that many translators tend to specialize in digital marketing and SEO.
What is a SEO translation?
This type of translation is just a localization oriented to web positioning, and it's created by translating the content and following SEO strategies (mostly on-page SEO). This way, the translated content will rank correctly in the search engines and the site will be shown among the main results of the SERPs, resulting in more organic visits to the page. This is the type of service you will need to position your website in different markets.
Translating a book, an audiovisual script or a web page have many points in common, but they also differ in many aspects. In any case, a translation transfers an idea from a source language to a target language. When translating in the marketing context, you should keep in mind a very specific purpose: to sell. This can be understood as getting a lead, a download, a visit or a sale in the traditional sense of the word.
The great thing about all this is that, whether it's a digital marketing text or a novel, the essential aspects that characterize a good translation are the same.
What do I need to know to translate with SEO strategies?
SEO translation is not very different from an ordinary translation, but there are some extra concepts you will have to consider. If you are a translator and you want to get to know more about hits universe, learn them by heart and put them into practice. If you work in technical SEO or if you want to internationalize a digital product, make sure that your translator or content specialist is familiar with the following aspects.
How to translate keywords
Keywords are those words or phrases that are searched very often in search engines, such as Google or Bing. In other words, their search volume is broad, so they get many visits to a web.
For your text to be well taken into account by Google algorithms, you will have to have a good number of keywords, without excessing some limits (the so-called keyword stuffing). In addition, they must be relevant keywords, but with little competition to be able to opt for those first positions in the SERPs.
Luckily for everyone, Google's algorithms are quite intelligent, and SEO is highly semantic. As a result, for your text to have a good volume of keywords, it will be enough to write a natural text.
To choose a keyword in different languages ​​or in different varieties of language, we will have to do a little research work. Let's see a practical example:
In SEO internationalization project about cruises, we have localized a page from Spanish to French. To find the right keywords, we search for words or phrases that mean "cheap cruises" in French. In this search, we see that the literal translation ("croisières économiques") has hardly any results and that the concept is sought in the singular ("croisière" and not "croisières"). The best practice is using "croisière pas cher" throughout the texts, titles and in bold.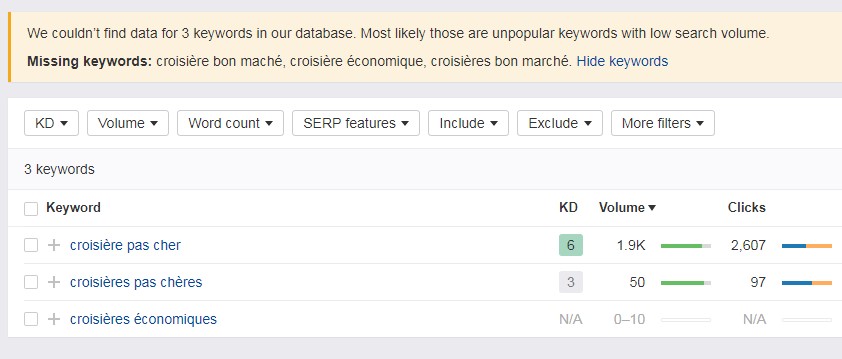 In Italian, it's something similar. The literal translation of the keyword "cheap cruises" is not the best in terms of SEO. Although in this case, the most searched word is still in plural.

Translating keywords is the most different part from a traditional translation. In languages with similar structures, keywords can be literally translated. But in more disparate languages ​​(such as Japanese or Chinese) it is quite likely that the SEO translator has to rewrite the paragraph or even the whole text. 
Keywords also vary in the same language, depending on the country and the variety of language you focus on. If you want to bring your page to the Mexican market, for example, you will encounter some surprising findings. You will have to execute the same process to optimize your website.
How duplicate content is detected in different languages
If you don't have a lot of experience in SEO content creation or translation, maybe you have already thought about translating content from other websites and put them on your page in another language. One might think that an algorithm can't detect duplicate content in words that are not equal at all.
Luckily for the true content creators, Google's algorithms penalize this behavior and consider it duplicate content anyways. We recommend that you avoid this practice, either because it is harmful to your digital product and to your colleagues.
Typos on purpose for the sake of SEO
Finding typos in digital platforms is very easy. Open any digital media and you will surely find some. Not being printed publications, it is easier to become loose when editing texts.
But there is something else. There are some typos that are fake typos: they are longtail keywords that you should misspell on purpose to rank for them higher.
Placing a good keyword in bold or in a link will help you position your website for that keyword. If what the public is looking for is ungrammatical or if it contains some spelling mistake, it may be beneficial to misspell it on purpose.
Trying to camouflage these combinations in a text may be impossible. You have to take this trick into account, using it moderately, in order not to harm the quality of the text.
How to internationalize your website in more technical terms
In addition to the content, you will have to pay attention to more technical issues. Choosing the name of the domain, the creation of the translated pages or selecting the IP and the country are some of these issues.
How to choose the domain to create my international website?
Here you have several possibilities and all are equally valid. Depending on your objective and on your business, you will have to choose one or another.
1. Create different domains for each language
If, for example, your page is cheapcruises.com, you could create a different website in Italian: crocierelowcost.it. To do this translation, you will also have to do that little keyword research in different languages ​​and by country.
This is an option that gives good results in the short term, but few on the long term. SEO strategies will eventually become very laborious. After all, it's about creating different websites from scratch. The link building strategy, for example, will consist on multiplying the efforts times each new domain you create.
In this case, you will also have to take into account that the algorithm considers your domains as different websites, also at the content level. In this case, a literal translation will not suffice, because it could be taken as duplicate content.
2. Create subdomains
If your domain is greatcruises.com, you could create subdomains for each language, for example: es.greatcruises.com, fr.greatcruises.com, etc. Keep in mind that although a domain in English may work well for several countries, a domain in Spanish ​​may not be understood in other countries, resulting in being confusing for the user. That is, a domain such as fr.crucerosgeniales.es may not be so attractive to a French-speaking user.
3. Use the hreflang tag
This tag allows you to create pages in other languages ​​using the existing domain. Same as before, we recommend that you come up with a domain that is international enough to be versatile in the countries you want to bring your website.
This is a good example of the use of this tag, since the name of the domain is the brand itself and a keyword, understandable both in Spanish and in English. And, in addition, it's also brief.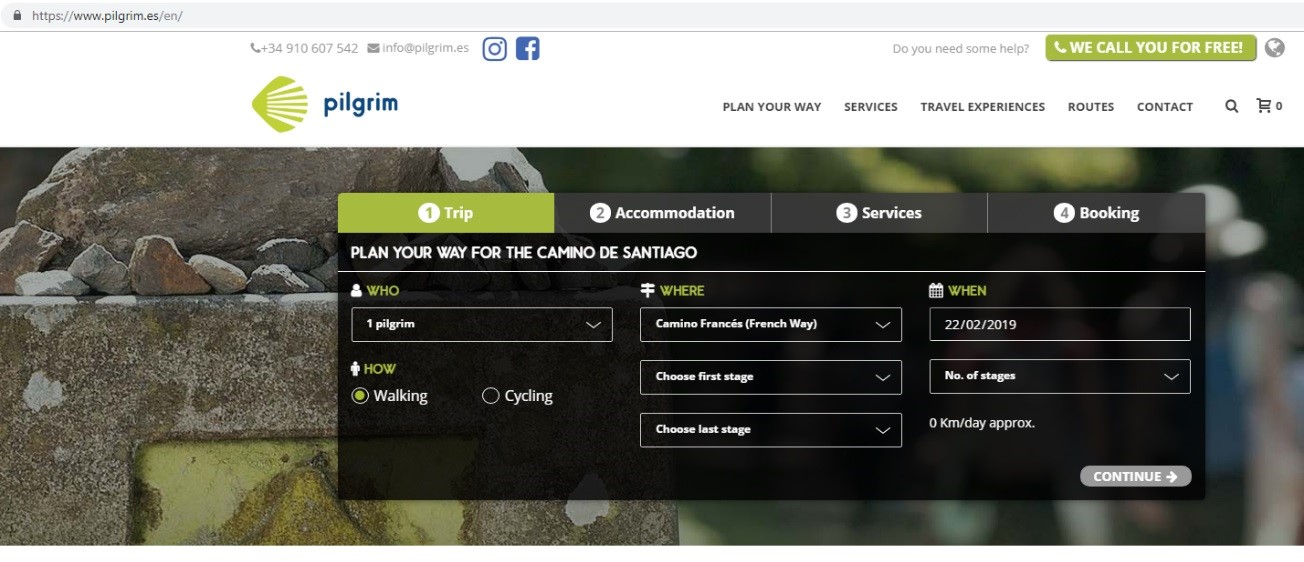 <link rel="alternate" hreflang="es" href="https://www.pilgrim.es/" />
<link rel="alternate" hreflang="en" href="https://www.pilgrim.es/en/" />
How to choose the IP and the country
When choosing an IP, the best thing is to choose the IP of the country in which you will make the most transactions. This is especially relevant for websites with the purpose of selling something. If your website is merely informative, you can also choose the IP of the country with the most traffic, but it is less relevant.
The same goes when setting a country. You can easily set a country and a language by using Search Console. You will have to go to the section Search Traffic> International Targeting. There you can set both the language and the country, to determine the location.
When the location is not set correctly or not set at all, the location is determined by the site's domain, the IP or the links on your page.
As you can see, there are many steps to follow, but each step has its logic. After all, positioning in different countries is not so different from doing it in your own and there are many strategies that are still the same, such as the link building or promotion in social media.
Even if you follow these tips, doing a previous market analysis is crucial (to do any type of marketing strategy, including SEO). Do some research and measure the resources you will need or look for an expert to help you out.
And, if you've already been experimenting with international SEO, share your knowledge with us in the comments!