Those of us who dedicate ourselves almost completely to the noble art of putting letters together have to face all kind of musings. We must seduce the reader, praise all the virtues of a product or service, bring valuable content, set down texts for posterity… However, besides dazzling with our prose, SEO copywriters have as a main objective to tickle Google crawlers, so our job can make sense.
Let me explain myself better: any writer (SEO or not SEO, that is not the question…) must write things for human readers. And we can take as an example this blog post. One of my main objectives as a SEO copywriter is that you, my dear Premium Leads' web visitor, would stay here, fully entertained reading these lines. And, most probably, some of your expectations as a reader would be to obtain valuable content, to learn about some theoretical concept you did not know about (the ideal keyword density, in this case) or just to refresh your knowledge in an original way.
But of course, at the same time, my job consists in making you end in this text through the results of a web search engine -Dr. Google, I presume?-. In addition to the daunting challenge of conquering the fear of the blank page, the SEO copywriter have other headaches. Anyone who wants to flirt with Google's algorithm must pay attention to a series of details to find the way to its heart. How do we get to appear among the first search results? How can we achieve in the digital era the old yearning of gaining visibility and stand out in the crowd?
Paraphrasing the words of a legendary thinker of Spanish politics: "It is the search engine that indexes the page and it is the page who wants the search engines to be the page." In other words, kids: to be Google's lover, its little spiders must like you.
But…what are Google spiders?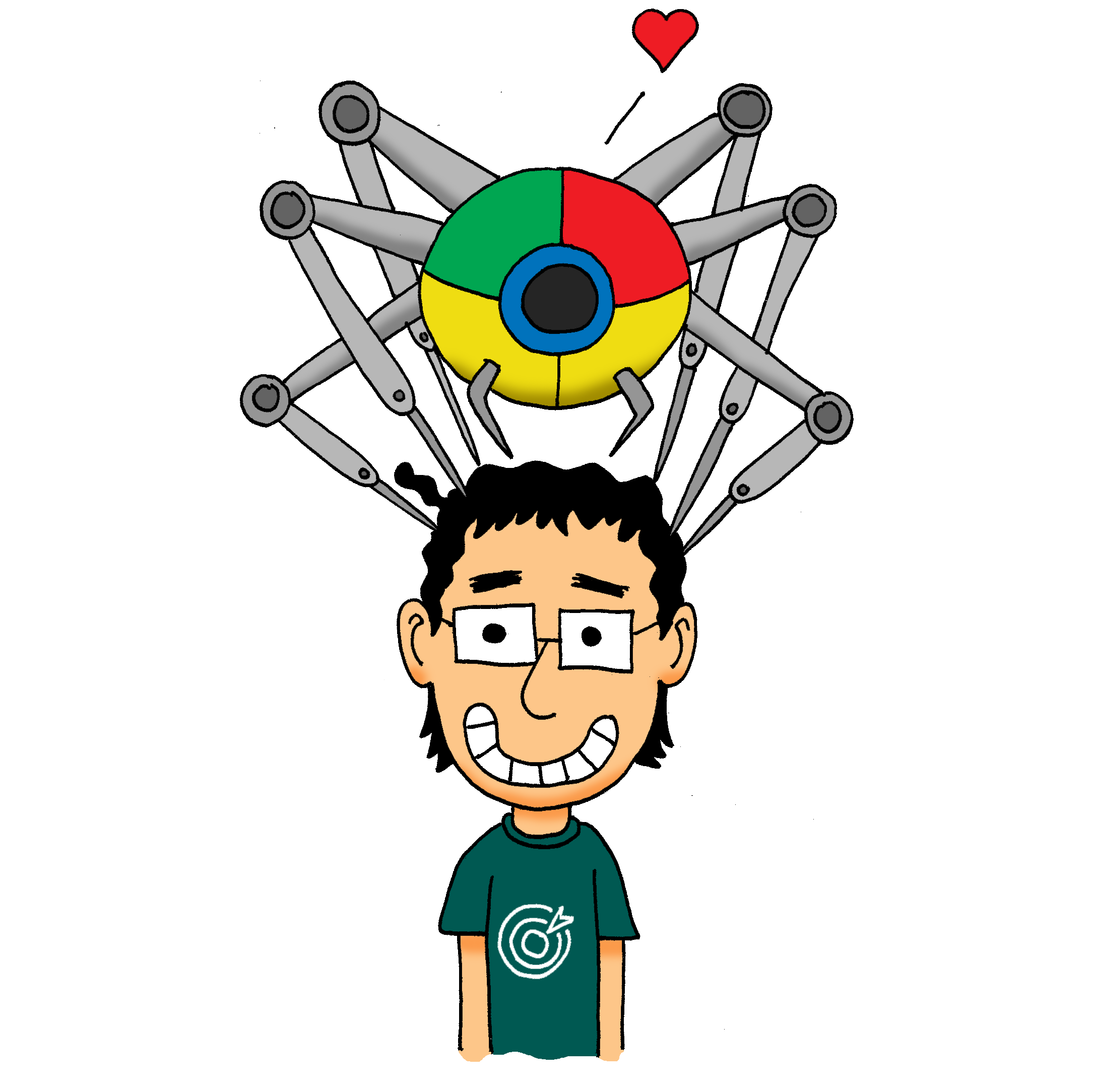 Excuse me for using the term "Google spiders" to grab the attention of the curious and newcomers to the marketing world. With this term, we briefly refer to those robots that crawl websites, that identify, index and classify web pages on searchers based on their content and the most searched keywords.
Of course it is sensational to write texts with total freedom in terms of creativity and be liked by the reader with this, but so far Google do not care in its algorithm about the sympathy that a writer arouses. What factors is this algorithm based on? Well, sometimes it seems that it will be easier to reveal Coca-Cola's secret formula, as the constant change of Google's algorithm makes things even more difficult. With each new update, some elements gain importance over others.
There are many SEO factors that will have an influence on a page position in search results: bounce rate, loading speed, user's dwell time, internal and external linking, the amount of direct visits, social media interactions, the user's experience…of keywords density, among so many others.
What is keyword density?
We can summarize keyword density as the number of times that a keyword appears in a web page. This formula is calculated by dividing the number of times that a keyword appears against the total of words on that page, like this:
Keyword Density = ( Number of times the keyword appears / Total number of words) x 100
But bear in mind that, although we are talking about equations and knowing that SEO copywriting has its own idiosyncrasies, writing SEO-optimized content it's not rocket science. Just by having a well structured and inviting content in your page, as well as by answering the visitor's questions, you will have most of the job done.
Is keyword density so important to SEO?
Let's not fool ourselves: word density is a factor that has been losing importance in Google's algorithm. When Google's spiders were not so well trained in the early 90s, the more a keyword was repeated on a page, the better it ranked in those main Internet search engines. What happened? This lead to many SEO specialists to overload their web contents, to the point of "hiding" their keywords among the HTML code, making them not visible for the reader. Writing for robot spiders and not for human beings, what an ugly thing!
This bad habit became known as keyword stuffing: a Black Hat SEO technique based on the repetitive and excessive use of keywords in a website, with the aim of ranking higher in SERPs for those searches.
Google did not take long to modify the algorithm of their search engines so this practice could penalized the position of those webpages with keyword stuffing, as they become considered spam.
As our SEO expert Rafa Villaplana points out, the basic premise now is to write in the most natural way possible, focusing on the user and forgetting about the percentage of words in our text. However, this does not mean that we should not take into account the presence of the keyword in our page, both in the URL, header or text blocks. A very important SEO factor is that the keyword appears in the title of the page we would like to position, among other places.
So, what is the ideal keyword density?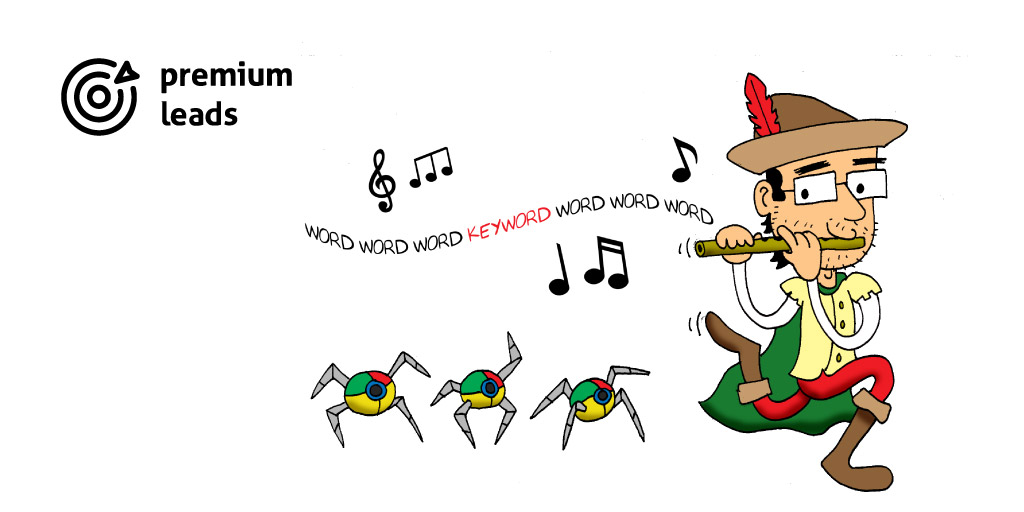 The recommended keyword density, according to many specialized blogs, is placed between a 3% and a 5%. Once you have decided the term you want to position (a topic that could take another post to be explained), our piece of advice is that you analyze your competitors and check the density they are using for a concrete search.  This way, you can have an idea about the importance you must give to that search term you are interested in, on the page you would like to position.
Currently, the ideal is to pay attention to those places were the keyword appears in our web page. In this sense, if you want to get your SEO writing right and have your position in search engines, it is essential that the keyword appears in:
– The page URL. Very important, as this way you are giving Google a perfect  indication of the keyword that your page content is focused in (ideal-keyword-density-SEO, for instance)
– The page metadescription. A section we must pay attention too, though Google has been lately generating these metadescription dynamically with the content of the webpage itself, in order to solve the user's search intention. In case that Google chooses to show your metadescription, if you can produce a dazzling copy, you will stand out from the rest of SERPs results, improving your CTR.
– The title of the post. Another hotspot where the keyword presence has an absolute importance. This may be the place where you will have to work wonders in order to seduce both the reader and Google at the same time ("What is the ideal keyword density in SEO to make the crawler fall in love", could be a good example)
– Text and page headers. This is where the keyword density comes in. Again: it's not about the number of times that word appears, it's about the text giving valuable content to the topic, and that the keyword appears on the places we are talking about. In SEO writing, we must be the sniper rifle, not the runaway machine gun.
– Post images. Another signal to tell search engines about the keyword we want to rank for. In addition, you will count with the bonus that your post may appear among the first results on Google Images.
Tools to measure keyword density
There are some tools we can use when writing SEO content, and that will help us checking quickly the information related to the word density of a text:
– SEOQuake toolbar. One of the most easy and practical tools to visualize keyword density in a webpage. This toolbar in our browser can detect and classify keywords formed by 1 up to 4 words, which will allow you to quickly analyze your competitors.
– SEOlyze. A paid tool that has a 1-month trial version which includes 3 free SEO on page analysis, letting you know which words have a good density on your text and offering you suggestions about which other should be optimized.
– Compumarketing Calculator. From this link, you can easily check the number of words a page has with multiple search alternatives: words sampling by characters, by number of occurrences, including meta titles, alt tags…
A little piece of advice about SEO writing and keywords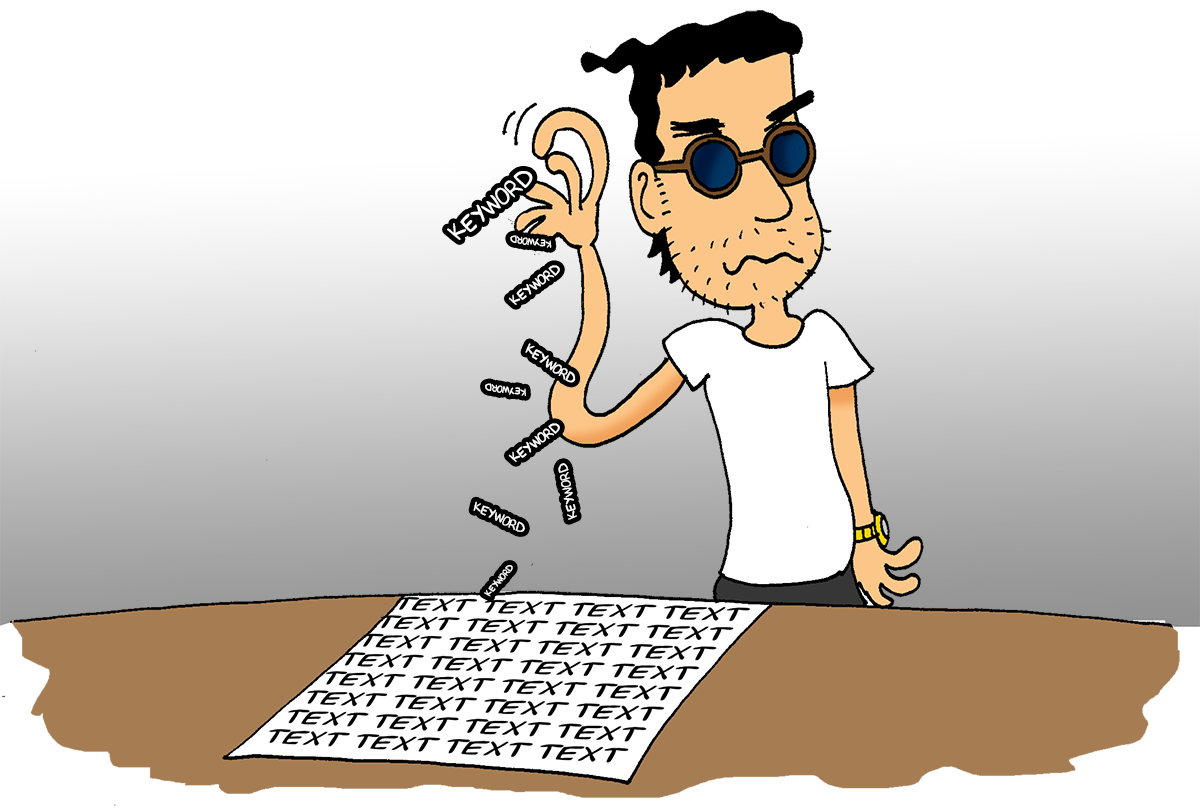 For those willing to embrace the challenge of the SEO oriented writing, here are some tips to help you in the daring job of climbing positions in the Google SERPs. Above all, do not fall into despair and remember that practice makes perfect!
Dress a tasty salad of plural and singular versions of the same word
Google's algorithm can recognize the different variations of a same search; you must be very careful when using them so it won't consider this keyword stuffing. You can try using both singular and plural versions of the same word, or better yet…
The power of Synonyms
Another way of dribbling penalties caused by an excessive use of keywords is by using synonyms. Google will love the fact that your content talks about arachnids, arthropods and tarantulas, instead of spiders, spiders and spiders again. With a great lexical richness and a broad vocabulary, you will spread hapiness among human readers and arachnid robots. Imagine how happy Spiderman will be!
Reinforce your keyword with LSI keywords
The LSI keyword concept (Latent Semantic Indexing) refers to words semantically related with a concrete keyword. This semantic richness will allow to the reinforcement of our keyword position, since the algorithm will have clear with which other terms and searches is related. Imagine the different results between a webpage called "How much does a bridge cost" with words in our text like "construction, inversion, river, engineer"; instead of "tooth, dental, dentist".
Adding FAQs related to the keyword you want to rank for
A Frequently Asked Questions section with questions related to our keyword will help Google's algorithm to easily recognize our content. This way it will be clear that our content is oriented to give the most information and answers possible to our visitors, no matter what other objectives we may have.
I hope this post has been useful to you! Follow us on our social networks for more SEO recipes!